As we wind down 2016, a great year for us, an Olympic year for Blue Eyes and myself, I thought it would be nice to look back at my first Olympic Mount, Exponential.
Throughout my career, I have been a long-time supporter of OTTB's – and many of my successes have been off-the-track thoroughbreds. One of our most amazing transformations was that of Exponential, Tucker. He came from the race track in Fort Erie, and his racing name was War Buckaroo.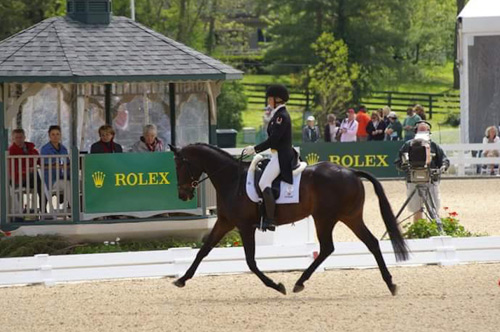 It took a great deal of dedication and work to get Tucker to the Olympic level. A race horse is conditioned at the highest level, in order to gallop at incredible speeds. As an eventing prospect, OTTB's can be ideal: they have the stamina and speed required for cross-country yet they need a great deal of training to be come round and supple for dressage. It's a completely different set of muscles a horse must use between racing, dressage and show jumping: On dressage day, a horse must be quiet and precise.
On cross-country day, the horse must be fit enough to gallop for 12 minutes straight and be bold over solid fences. Then, on the third day, he must be careful and nimble enough to successfully complete the show jumping phase. Tucker's transformation from OTTB to a 4* star mount was a result of dedication and work – 6 days a week for 5 years. And he was amazing! He loved it. For him, it was play – it was fun! He was then, as still is, the first horse with his head out of the stall in the morning looking at you. He has such an amazing work ethic. As we were competing at Rolex in 2011, where we finished 7th, I knew then that we were headed to the Olympics.
At the 2012 London Olympics, we finished as the Top Canadian pair, placing 22nd – and I was so grateful to him. He is quite a showman. He loves to have people looking at him and he loves to perform. Tucker is now enjoying his retirement: the other day, I went on a bareback hack with him. And as always, we had fun.
I honestly know that I would not be here today – at this stage in my career – without such wonderful OTTB horses, such as Tucker.
In this spirit, I invite you to go to my Facebook page and share with me your successes. Where Are They Now? Send us your stories of horses you have bought from The Phoenix Equestrian Team… and you just might find it shared here, on our website. And thank you for being part of our journey.
For more information on horse adoption please visit the LongRun Thoroughbred Retirement website.